History of the Albert P. O'Donnell Funeral Home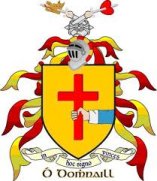 Anthony Paul O'Donnell also known as AP O'Donnell came to the United States from the parish of Macgovenach county of Mayo, Ireland, in 1844. In 1859, he married Bridget Meehan O'Donnell who also immigrated from County Mayo Ireland. By 1862, he operated what became a large livery and exchange stable and an undertaking establishment in the Borough of Providence, presently known as the Providences section of north Scranton. After his death in 1874, Bridget took over his businesses.
Prior to 1887, Anthony P. O'Donnell's oldest son, Thomas J. O'Donnell, had already expanded the family business to a new location on Drinker Turnpike presently known as 207 East Drinker Street in Dunmore, Pennsylvania. In the early 1900's, Thomas J. moved the business to 314 Apple Street. After his death while attending mass in All Saints Church, his wife Ellen Smith O'Donnell, became the second generation of O'Donnell women to operate a livery and undertaking establishment. Thomas J. had two sons Thomas J. and Albert P., also known as AP O'Donnell. Both sons were undertakers. Thomas J. died young from the effects of Mustard gas poisoning from his service as an ambulance driver on the Western Front during "The World War". In 1941, Albert P., our grandfather the youngest of five children moved our funeral home to its current location on Green Ridge Street . Albert P. died in 1959 and his wife Annette Doughtery O'Donnell preserved and expanded the third generation business. In 1964 when her son Albert P. was licensed, he entered the business as a fourth generation undertaker. Annette and Albert P.'s first grandson Albert P. O'Donnell was licensed in 1987 marking the entrance of the 5th generation of continuous family service in the undertaking funeral business. A second grandson, Thomas J., was licensed in 2008.
During five generations of family service the O'Donnells have seen the creation of both the city of Scranton and the forming of Lackawanna county from part of Luzerne county. They have served the community from the Civil War through the World Wars and the Gulf Wars.